With the entries now closed for the 2011 New Zealand Senior Championships to be held in Palmerston North 12th-16th October, it was time to see which Associations were gunning for the Teams titles. With some tough competition throughout the year, the NZ Open Championships is the pinnacle of domestic competition, this is where all the hard training and discipline is put to practice. With the team event to be held first there are high hopes from all associations participating, though without a doubt Auckland appears to be the dominant force in the field.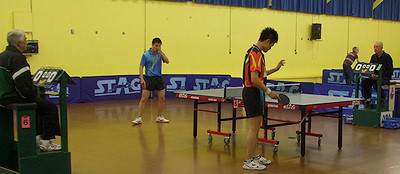 An epic battle at this year's North Island Indivdual Champs
between the two top guns in Auckland's 2011
Men's Team for the Nationals
'I expect the auckland team to win with relative ease as we have the best player in the country as our number 1 and #1 ranked player in the country in 2010 as our number 2'
Zhiyang Cheng (Auckland). Of course Zhiyang speaks of top gun Teng Teng Liu who made the semi-finals at this years Australian Senior Championships and Phillip Xiao a close rival, the two of whom battled it out in an epic finale at this year's North Island Individual Championships, both are players of high skill and with the backup of other notable Auckland players they are looking confident to take the top Mens shield which we can be sure Josh Alexandre is looking forward to hoisting up in the team photo once again.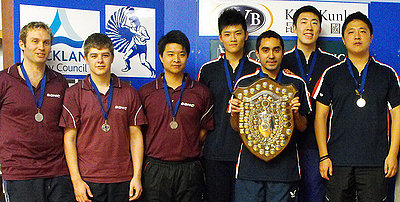 Josh Alexandre holds the A Grade Mens Team Shield for
Auckland, the 2010 Winners of the National Event.
Close competitors in the Mens Team Events are likely to include the main centres; Canterbury, North Harbour, Waikato and Wellington and of course the hosts Manawatu.
'We are an old team that train only a fraction of the Auckland teams, so without even considering the other teams it's already going to be very tough'
Yi-Sien Lin (Canterbury) on his teams chances. Yi-Sien will combine with Simon Wallace and experienced New Zealand Veteran Malcolm Darroch who has
a long history of success in table tennis here in
N
ew Zealand. Confidence from Mitchell Barker for North Harbour also 'I
t
hink we have a good chance to be there at the end providing our players are on form we are just as good as any other team'
Mitchell Barker (North Harbour). No doubt we will see Mitchell combining with 2005 National Champion Brad Chen and of course Craig Dye who recently reached the semi-finals of the Auckland Open Championships just 2 weeks ago.
Hosts of the competition Manawatu are aiming high
'Hopefully top 3, if they play well'
Nathan Watson (Manawatu). It will be interesting to see whether playing on home ground can help them manoevre their way to the top. Close neighbours Wellington have entered a number of teams, Coach and Selector Stephen Hirst had this to say on his expectations for the Wellington teams: '
If our top Mens and Women's team play to their potential I'm expecting they will go further than people would expect them to. Quietly confident but it will all come down to doing the right things in the pressure situations on the day. We are not going there to make up the numbers.'
This statement was echoed by Wellington representative Hayden Tapp '
Wellington are after a top 4 finish. We are getting back on track and have high hopes'.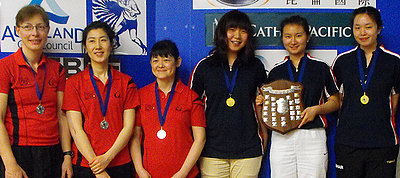 Feng Jie holds the A Grade Women's Shield for Auckland,
Winners of the National Women's A Grade Teams.
In the Women's Team Event the Otago team will be travelling up for the competition, great to see. Team player Gemma Buzzard stated her hope was simply 'to win some games and have a good time' a great outlook for the social and competitive balance for the event.
Wellington have put a strong team forward to contest the women's and will be aiming for the top spot having won the North Island Team Championships. 'I believe that Wellington has selected a strong women's team for this year, and the chances of doing well are very high. As always, it all depends on who Auckland and Christchurch sends' Lisa Yue (Wellington). In the end it promises to be a great competition and it's great to see the players aiming high. Waikato will certainly be looking to earn its way into the higher finishing places after a good effort last year to try and make the top spot.
With a number of skillful players competing in the team events there will be plenty of exciting table tennis matches to watch across all grades. A match we can really look forward to will most certainly be the clash of North Harbour's Brad Chen and Auckland's Tony (Teng Teng) Liu.