Peter Jackson is a New Zealand Hall of Fame table tennis player, 3 time Olympian and attended 5 World Championships representing NZ and many other international events. He was a 2 time Oceania Champion and 2 time NZ Mens Singles Champion. He was kind enough to do this interview with me. Thanks Peter.
Full Name:
Peter Stuart Jackson
Date Of Birth:
22/10/64
Nation represented
: New Zealand
Highest World Ranking:
113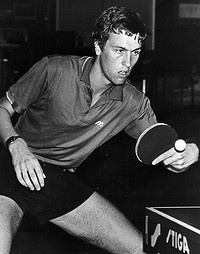 Peter (1987)
Photo from TTNZ
Equipment Used?
Blade:
Butterfly Power Drive
FH Rubber:
Tenergy 64 max now but used Sriver for a long time as well as Sriver FX and Bryce
BH Rubber:
Tenergy 05 max, also Sriver Sriver FX and Bryce
Your Career How long did you play table tennis for, when and how did you start?
I started playing table tenis whenI was about 7 years old. We had a table tennis table in our garage which was always up and my mother and older brothers all played along with my father who was NZ champion several times.
What was the highlight of your table tennis career?
There were several highlights. Winning the 1993 NZ Men's singles title defeating Barry Griffiths in the final after losing to him in the final 5 times. Winning the NZ Men's singles title in 1990 after losing in the final 5 times. Winning the Oceania Men's singles title in 1990 and 1996. Competing in the Oympic Games was also a highlight and winning the Oceania Olympic qualifying tournaments in 1991, 1996 and 1999 were big highlights.
How do you feel the game has changed playing now from when you played yourself?
The game has changed a lot with the new rules for scoring and the larger ball, the banning of speed glue and the implementation of more strict rules regarding service. Rallies are slightly longer now which makes the game more physical.
More specifically what is it do you think that allowed a higher standard of players in New Zealand in your era as a Senior Representative than those in our teams now?
I think there are many other sports and activities that interest the youth of today more than table tennis. Table tennis needs to try new things to make the game more interesting to the youth of today.
Who was your biggest rival out on the table in your career?
Barry Griffiths. We were mostly in the same age group as juniors and were almost always competing against each other in tournament finals in Auckland and in NZ competitions.
Tell us a bit about where you trained and where you played during the peak of your career and how it differed from NZ.
In 1988 I travelled to Europe and after palying professionally in England for 1 ½ seasons I moved to Belgium. This was where I was fortunate enough to be able to train with the Belgian national team. I was also able to compete in many International tournaments in Europe from 1989 to 1995. The top player from Belgium at the time was Jean-Michel Saive who was ranked number one in the world in 1995. The intensity and quality of the training was much better that what I could experience in NZ.

You are a bit of a family man now, do you still get the opportunity to play much?
I still play for a club in the national league in France but not at the same level as before. I still enjoy playing and trying to find ways to beat the younger players.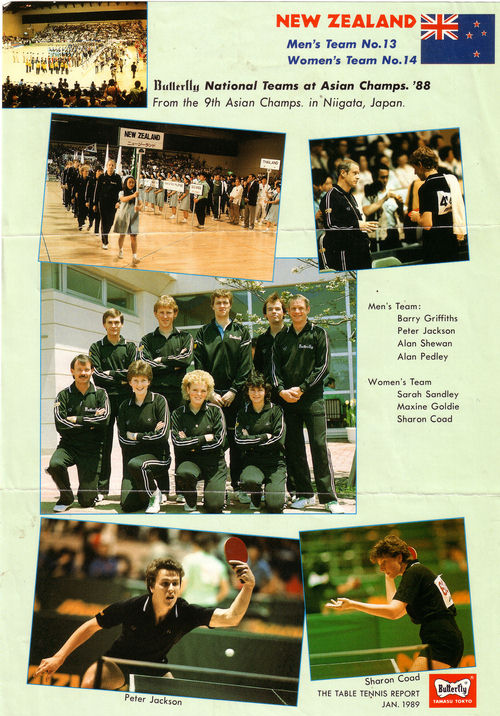 1988 Asian Champs Report from Butterfly
Peter Bottom-Left
Image from TTNZ


Most young players like myself have never seen you play a match, tell us a little bit about your game style and how you liked to play.
I am left-handed and play a topspin style game from both backhand and forehand. I would often try to execute counter topspin close to the table from the forehand side.

What do you believe table tennis needs to raise its profile in New Zealand?
I think that table tennis needs to try new ways to attract youngkids to the sport. Innovations like 20/20 cricket are what I think is needed. Increasing the base is the only way that NZ table tennis can succeed.

Off the Topic Questions
Who's your favourite sportsperson of all time?
Waldner is exceptional in table tennis. Otherwise Roger Federer.
Favourite food?
Pasta and pizza and Thai food
Tennis or Table Tennis?
I have never been much interested in tennis.
Dream Car
I am not that into cars but would like a Porsche
Ideal holiday destination?
I loved Mallorca when I went there
First thing you would do if you won $1million?
Pay off the loan on our house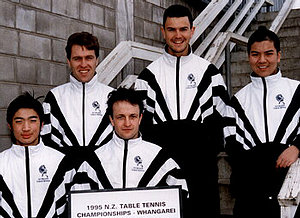 Peter (2nd from left) with Auckland team 1995 NZ Open
Image from TTNZ


Your Team Mates
Played in many NZ teams with Barry Griffiths along with Hagen Bower and Shane Laugesen in later years for NZ and Auckland.

Who was the most reputable player you beat in your career?
I beat several highly ranked players in my career including Lupulesku, Kucharski, Shibutani, Matsushita, Solopov, Fetzner,Philippe Saive, Podpinka, Douglas
Several of these players were ranked around 30 in the world when I defeated them.
Who trained the hardest in the training hall?
Jean-Michel Saive
Who's was the funniest team player?
Barry Griffiths
Who had the best nickname?
Can't think of anyone in particular.
And Lastly

Would you like to add one last tip, or an inspirational message for other table tennis players looking to succeed?
You will need to train hard and try to find the style of game that works for you. Be prepared to innovate and also to learn from other players.
I guess all of your old friends and team mates and all those who have been inspired by your results and history for table tennis in New Zealand would like me to ask this one: Can we expect to see you gracing the tables in New Zealand any time again in the near future?
I don't think it is likely I will be playing again in NZ but you never know. I am now settled in France with my wife and 2 children and don't see moving to NZ as a likely option in the near future.